We have a 140ft cell tower.
Cell Tower 2 Conifer Driver Overturned
Cell Site 3 Sisters Of Charity Cupola
Cell tower 4 Shopping Center Appeal Overturned
 DAS NODES (Township) VERIZON WIRELESS.pdf
Had enough? or do you enjoy
BIG GOVERNMENT
BIG CORPORATIONS 
MSM
The first stage starting from the top down: T-Mobile, 2nd stage Verizon.
Each stage is 10ft.
The construct is of two 50ft sections jacked together... you will see the seam at 50ft.  The top accounts for the remaining 40ft.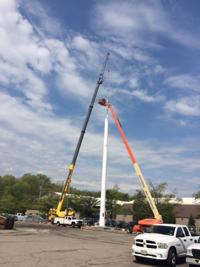 .
1. AT&T 3 Cell sites in the area Daytop,Sisters of Charity, Conifer Driver. Tri Bands 700/800/1900mhz 
2 Sprint 3 Cell Sites in the area Daytop, Sisters of Charity, Conifer Driver, , dual bands 800/1900mhz
3. Verizon 2 Cell sites in the area, Daytop, Conifer, Dual Bands 900/1900mhz
4. T-Mobile  2 Cell sites in the area, Daytop, Conifer, Dual Bands 1900mhz. TO MY KNOWLEDGE these folks have not rolled 700mhz into this area at this time.
Summary- ATT will have the best coverage. 700mhz penetrates buildings better, 1900 mhz fills in closer to the tower area. 
Verizon- they are 800 up and down RT24 and have 1900mhz.  They sold their 700mhz spectrum to T-Mobile.
T-Mobile only has/had 1900mhz, that is why they were so bad. Recently they purchased 700mhz. If they deploy it in this area they would make a good 2nd or 3rd choice.
Verizon and T-Mobile are to busy trying to land a tower @ Kings verse simply mounting antenna @ the sisters of charity. 
WHEN WILL T-MOBILE UPGRADE the Bell Tower @ Daytop?
2X the coverage 
4X in building coverage
700mhz
FACTS:
1. The current Mendham Borough Area is covered there is-75 to -95 coverage throughout (800mhz) Models of Seamless Coverage
2. Verizon Drive Test shows seamless coverage   Verizon Drive Test for Mendham (Area Covered)
3. T-Mobile is now licensed for 700mhz in NEW JERSEY  See FCC License Search
4. T-Mobile explains to the FCC why 700mhz is superior and they need to scale this.  T-Mobile Describes to the FCC why 700mhz Provides more reliable and less expensive coverage (ref para 9)
 "In effect, use of both low-band and high-band frequencies produces a result that is greater than the sum of its parts" (pg 7).

"low-band spectrum in conjunction with midband spectrum improves network performance and reliability, expands coverage, and decreases capital and operating expenses" (pg 3)

"facilitates competition in tower selection should a particular tower owner seek excess rent because of their control of a highly desired location" (pg 22) 

"For the purpose of comparison, the network team then created a 700 MHz design intended to reduce the number of sites required while simultaneously improving the reliability  and availability of indoor coverage." (page  10)

"The overall conclusions of these detailed analyses have been that 700 MHz designs in such disparate markets as Miami, Fresno, Philadelphia, Cleveland, Minneapolis, and Houston, to name just a few, will achieve significant, perceptible, and impactful indoor coverage improvements while using only about XXXX of T -Mobile's current  WS site count, a substantial savings. In addition, for reasons discussed in greater detail below, this model also offers T -Mobile the ability to greatly expand the size of its overall footprint, bringing coverage to less populated rural areas outside the urban core. (page 12)
 -------------------------------------------------------------------------------------------------------------------------------------------------------
700 MHZ coming to NBW JERSEY. Agreements completed......FCC Grants LICENSE TO T-MOBILE for700mhz....t-mobile_700mhz_license.pdf
Method of how T-Mobile with share 700mhz with WNJN
 Agreement to share 700mhz in NJ with New Jersey Network,WNJN 
FCC Source of T-Mobile Statements See Attachments

 T-Mobile Describes to the FCC why 700mhz Provides more reliable and less expensive coverage
Document Authenticity and source: Presented to the FCC by T-Mobile:
700mhz coverage details
This Harding tower makes the current Mendham tower dropped call data Void !!!
ST. LOUIS, MO. (KTVI) – Strong winds knocked over a cell phone tower in South St. Louis
DENIED 7--0
REAR YARD SETBACK NOT MET. SAFETY ISSUE FALLING ICE
The Briefs
NOTE: There are two factors at play here:
1. The Rear of the Shopping center is WETLANDS. It requires a permit from the DEP to build here. To date no permits or evaluations have been done. 
DEP Search
THE WETLANDS IN QUESTION ARE CATEGORY A. THEY CONTAIN ENDANGERED SPECIES. 
THE BOG TURTLE.
NO PERMITS WILL BE GRANTED !!!
3. The rear of the property is leased to a country club. The Club owner I would suspect would have to give permission and  would receive the revenue stream. Or the property owner would  discount the lease to support the lose of business having a cell tower right over a pool.
The Denial on Appeal
 Current AT&T and Verizon Models
 T-MOBILE to be purchased by AT&T. This makes all T-Mobiles claims irrelevant
AT&T 800mhz is the primary frequency in this area and is articulated by AT&T Documents
See the documents for yourself right on the FCC webste
Additional AT&T Documents on the merger and 850/1900 mhz